Reminder and Warnings
No videos or fanart of any kind allowed.
Any edit wars should be avoided by talking with each other.
Introduction
Hello and welcome to the Berserk Wiki, the encyclopedia for the anime and manga Berserk that anyone can edit. Please feel free to contribute to our site and help us complete our goal to build the most informative site for everything related to Kentaro Miura and his most notable work, Berserk, online. From all the editors here at the Berserk Wiki, thank you for your contributions.

Note to Editors: Remember our spoiler rules and wait for the chapter release. All information added before the chapter is released will be removed. Please be patient and wait for confirmation on ALL facts and details spoilers occasionally leave out. In the meantime, feel free to discuss them at our Spoiler Forum.
Reminder to ALL editors: Don't take text or images directly from other Berserk fan sites!
Latest Chapter
Chapter 338 is the latest chapter of the series.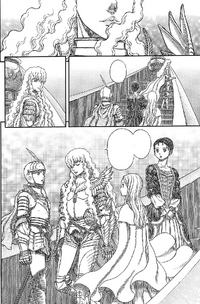 A Guest of Death at Dusk is the 338th chapter of the Berserk manga series, written and illustrated by Kentaro Miura.
Go to the page to read the chapter's summary!
Random Featured Article



Eclipse (

蝕

Shoku

?

) The Eclipse is a very rare event in the world of Berserk, apparently happening once every 216 years, meant to seek a new member for the God Hand. Triggering an Eclipse is something similar to summoning the God Hand to be transformed into an Apostle, involving the very same elements, such as an individual in a strong emotional distress.
Affiliates
If you wish to affiliate with Berserk Wiki, please ask Besty17.
Anime/Manga Footer