Introduction
This Wiki includes spoilers of an unpredictable spread throughout articles – Please proceed with caution!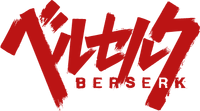 Welcome to Berserk Wiki,
a fan Wiki dedicated to Berserk by Kentaro Miura.
Our goal is to create a reference for all official material related to this ongoing series. Anyone can edit, so any help in doing so is greatly appreciated!

Content
Berserk News
| | |
| --- | --- |
| 07/01/2016 | Crunchyroll announces they will publish, dub and release the 2016 Berserk anime in North America. |
| 07/01/2016 | The first episode of the all new Berserk anime has premiered! |
| 06/12/2016 | Berserk Musou is announced with a release date in Japan on September 21, 2016! |
| 12/21/2015 | An all new anime adaptation of Berserk is announced! |
| 07/08/2015 | The Berserk manga is officially confirmed to return as a monthly-series. |
Latest Chapter
Episode 343 (Manga)

Episode 343 is the 343th chapter of the Berserk manga series, written and illustrated by Kentaro Miura.
Featured Articles
Affiliates
If you wish to affiliate with Berserk Wiki, please ask Besty17.
Anime/Manga Footer
Twitter
July 2016 Poll
Best Member of Gut's Traveling Party (excluding Guts)?
June Poll Results
By 6496 (95.01% of) votes,
the leader of the June 2016 Poll,
for Do you like the series so far?, goes to
Yes, it's amazing.
Berserk is a Japanese dark fantasy manga series written and illustrated by Kentaro Miura.
Runners-up: "I really like it" (171 (2.5% of) votes); "It's good" (78 (1.14% of) votes). The poll was created at 07:24 on November 16, 2013, and so far 6837 people voted.
Get the My Wikia App!
With Wikia's official flagship app, My Wikia, you can search for communities and add them to your home screen and read constantly evolving, deep content in a customizable format.
DOWNLOAD NOW FOR FREE!