Fantasia (幻造世界, Fantajia?) is the 306th numbered episode of the Berserk manga series, written and illustrated by Kentarou Miura.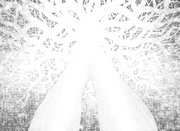 All over the world, fantastic creatures like dragons, giants, goblins, trolls, elves, swamp monsters, brownie, Accursed Spirits and a headless horseman, all spring into being. All of them were entities long since dreamed up by sleeping or imaginative humans, and Ganishka's light has heralded their arrival into the physical world. Even the God Hand seem to have been able to reach the physical world.
The Band of the Falcon stare up at the completely white tree that stands where Ganishka once was.
Characters in Order of Appearance
Edit
Falcon of the Millennium Empire Arc
Manga Episodes
Volumes

22
23
24
25
26
27
28
29
30
31
32
33
34

Story Segments
2016 Episodes
Other Media