Characters
Featured Article
The God Hand is a quintumvirate of demon sovereigns who act as executors of the Idea of Evil's will,[1] by virtue of their desires being intrinsic to the entity.[2] As the most powerful of demonkind, they reign over apostles as their masters, and are responsible for granting normal beherit bearers their reincarnated status of being, in exchange for a sacrifice.[3] They have orchestrated many significant events that have largely affected the course of humanity, as well as the state of the macrocosm.
Featured Artwork
Community
On the Wiki

Editing

Maintenance

Socialize

External Links

@berserk_project on Twitter

Affiliate Wikis

If you wish to affiliate with Berserk Wiki, please ask Besty17.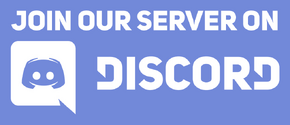 Recent Updates
May 25, 2018
Part 2 of episode 356 "Jötunn (1)" released!
Next release: Unknown
June 23, 2017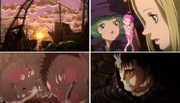 Episode 24 "City of Humans" released!
Next release: Unknown
Opinion Poll
Did Griffith do anything wrong?
Did You Know...
... that in the earliest of Guts' prototype designs, he had long hair and wielded a katana rather than the Dragon Slayer?
... that the Band of the Falcon, very briefly, was beknighted as Midland's White Phoenix Knights?
... that beherits are still usable after their initial activation?
... that Berserk was significantly influenced by Kaoru Kurimoto's Guin Saga?
General Disclaimer
"BERSERK" and all related art, logos, characters and other derivatives of Kentarou Miura's creative work included on Berserk Wiki are ™ and © of Kentarou Miura and/or Hakusensha. All Rights Reserved. The operation of this website is believed to fall under the United States "fair use" copyright laws. Berserk Wiki is purely an unofficial Berserk encyclopedia, and does not pretend to be official in any way whatsoever.
Cite error: <ref> tags exist, but no <references/> tag was found