The Band of the Hawk is a mercenary group founded by the "White Hawk" Griffith. They are instrumental in several battles during the Hundred Year War, most prominently in retaking the Chuder-held fortress of Doldrey for Midland and ending the century-long conflict. Subsequently, the band's commanders are granted nobility.
However, after Guts departs from the band and Griffith sleeps with Princess Charlotte in a moment of weakness, the mercenary leader is captured and tortured under the orders of the King of Midland, and the Hawks are exiled for treason.
On the Wiki

Editing

Maintenance

Socialize

External Links

Follow @BerserkWiki!

Affiliate Wikis

If you wish to affiliate with Berserk Wiki, please ask Besty17.
26 May 2017
Episode 350 "Memory Fragments" released!
Next episode: Late June
26 May 2017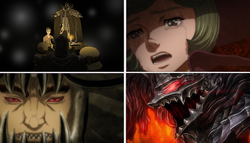 Episode 21 "The Berserker Armor" released!
Next episode: June 2, 2017
Did Griffith do anything wrong?
... that in the earliest of Guts' prototype designs, he had long hair and wielded a katana rather than the Dragonslayer?
... that the Band of the Hawk, very briefly, was beknighted as Midland's White Phoenix Knights?
... that the Midland Royal Family is said to be the only family in the world carrying Gaiseric's blood?
... that the Dragonslayer's design was influenced by similar swords illustrated in Pygmalio and the Guin Saga spin-off The Snow Queen?
... that Berserk was significantly influenced by Kaoru Kurimoto's Guin Saga?
General Disclaimer
"BERSERK" and all related art, logos, characters and other derivatives of Kentaro Miura's creative work included on Berserk Wiki are ™ and © of Kentaro Miura and/or Hakusensha. All Rights Reserved. The operation of this website is believed to fall under the United States "fair use" copyright laws. Berserk Wiki is purely an unofficial Berserk encyclopedia, and does not pretend to be official in any way whatsoever.
Ad blocker interference detected!
Wikia is a free-to-use site that makes money from advertising. We have a modified experience for viewers using ad blockers

Wikia is not accessible if you've made further modifications. Remove the custom ad blocker rule(s) and the page will load as expected.