Introduction
This Wiki includes spoilers, gore and nudity of an unpredictable nature throughout articles – Please proceed with caution!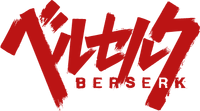 Welcome to Berserk Wiki,
a fan Wiki dedicated to Berserk by Kentaro Miura.
Our goal is to create a reference for all official material related to this ongoing series. Anyone can edit, so any help in doing so is greatly appreciated!

Content
Berserk News
Latest Chapter
Episode 347 (Manga)

Flowerstorm King is the 347th episode of the Berserk manga series, written and illustrated by Kentaro Miura.
Featured Articles
Affiliates
If you wish to affiliate with Berserk Wiki, please ask Besty17.
Anime/Manga Footer
Twitter
September 2016 Poll
Best Arc in the Berserk Series So Far?
August Poll Results
By 111 (59.36% of) votes',
the leader of the August 2016 Poll,
for Best Member of the Neo Band of the Hawk (excluding Griffith)?, goes to
Nosferatu Zodd.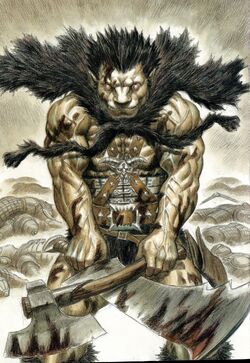 Nosferatu Zodd (不死のゾッド, Nosuferatu Zoddo?) or "Zodd the Immortal" is a legendary sword master. Any battle in which he participates results in mountains of dead.
Runners-up: Irvine (35 (18.72% of) votes); Grunbeld (11 (5.88% of) votes). The poll was created at 01:06 on August 1, 2016, and so far 187 people voted.
Get the My Wikia App!
With Wikia's official flagship app, My Wikia, you can search for communities and add them to your home screen and read constantly evolving, deep content in a customizable format.
DOWNLOAD NOW FOR FREE!